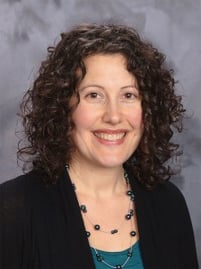 "Each person I work with is like a puzzle. I enjoy being a part of the team in putting all of the pieces together to identify the root cause of health concerns and provide education along the way to empower people to make healthy decisions."
Meet Dr. Stephani Waldron-Trapp, N.D.
Hi there! I'm Dr. Stephani, a naturopathic doctor located in Champlin, MN. I have been providing safe and effective natural therapies to individuals and families across the Twin Cities metro area since 2006.
I take the time necessary to listen to your health concerns and understand your needs as an individual. I may perform a physical exam, if necessary, and order lab work that may shed light on specific areas of the body that need support. I focus my efforts on treating the foundational cause(s) of health concerns which allows me to provide a variety of treatment options for you to implement when you are ready. We will work together as a team and I will listen to your needs and adjust treatment recommendations as we work together to continue to support optimal health.
I see individuals of all ages. However, my practice has become focused around women's health over the years. I work with a variety of health concerns and also enjoy working with individuals on prevention and wellness.
"I value a

healthcare

approach

that

supports the body's ability to heal itself."
I have found naturopathic medicine to be extremely effective, thanks in most part to its holistic approach and numerous therapeutic options. Naturopathic medicine, in particular, can offer some of the greatest opportunities for the body to heal itself.
"I have a doctorate in naturopathic medicine. Not all naturopaths in MN can say the same."
I hold a degree as a Naturopathic Doctor from the University of Bridgeport, College of Naturopathic Medicine, an accredited school with a four-year doctorate program. Not all naturopaths in the state of Minnesota have the same level of education. I am licensed in the state of Vermont and registered in the state of Minnesota as a naturopathic doctor.
I am an active member of the Minnesota Association of Naturopathic Physicians and the American Association of Naturopathic Physicians, which allows me to stay current on new functional medicine treatments.
"Being healthy requires balance in all areas of life"
Balancing life and work is important for achieving optimal health and I encourage this for all people. When I'm not working or educating myself, I enjoy spending time with my husband and two children, walking our dogs, jogging, gardening, bird watching, being out on the lakes, and reading a good book.
Contact Me to Learn How I Can Help You
If you are looking for a compassionate, experienced, trained professional to guide you along your wellness journey, then turn to me. Schedule a complimentary Discovery Call to find out more about my services and how they may be beneficial for your health goals!